Sales Madness Champion: Sarah Brazier
Last week we wrapped up the First Annual Sales Madness Tournament. We gathered 64 of LinkedIn's best and brightest in sales to go head-to-head. We grouped participants into four different categories; Sales Trainers, Leaders, Vendors, and Practitioners.

Receiving over 27k votes throughout the tournament, the competition was real.
Reminder: We've crowdsourced all of the participants in this Sales Madness tournament. Seeding is reflective of the total number of LinkedIn followers, and advancing in the tournament is based solely upon voting results in these online LinkedIn polls only. Voters were encouraged to follow along and vote for their favorites.
Here are some of the highlights:
The Championship Round
To win it all, #8 seed Dale Dupree vs #1 seed Sarah Brazier.

In the final round with over 1,000 votes, of the nearly 1,800 total votes in the round, our champion is Sarah Brazier!
Who is Sarah Brazier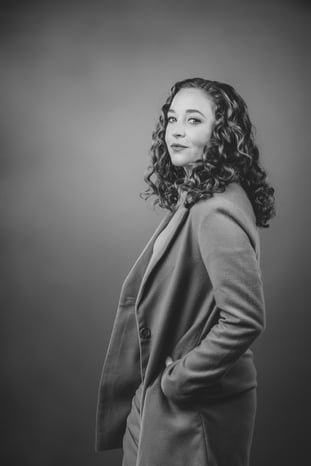 Sarah Brazier is a woman of many talents. She is an Account Executive at Gong, a coach at SDR Nation, an instructor at Sales Impact Academy, and a collaborator at Ramped.
She has over 32k followers on LinkedIn and is a nationally awarded speaker with expertise in sales, social media marketing, event hosting, and education. When she's not influencing the future of sales, you can find her skiing, swimming, running, or cozying up with a good book - when she finds the time!
Sarah jokes about getting into sales due to desperation. She was working over 80 hours a week, two jobs to support her career aspirations of acting. She fell into sales for three reasons: she could capitalize on the communication skills she'd already developed, the low barrier to entry, and the opportunity to create enough financial consistency to not have to work two jobs.

Sarah started as an SDR and is not embarrassed to admit she wasn't the best at it, well "sucked at it" if we want to use her words.
She shares,
"I spent the first nine months of SDR life failing day after day. It was emotionally draining, humiliating, and, ya know, an all around NOT good time. Then, I met the team over at Gong. Tanner Robinson was my manager, and he changed my career around. I started consistently hitting, and then overachieving quota. In 2019, I made President's Club, in 2020, I was promoted to AE. Now, I'm rounding out my fourth quarter as an account executive. Life is good."
I asked Sarah some questions about sales and I'd like to share her insightful responses:
Q: What is your favorite thing about being in sales?
A: I can't pick one thing. I like learning new things from customers. I like getting to know different people from all over the world. I like that it gives me autonomy, but I'm still selling as a team with my peers.

Q: What would you change about sales today?
A: The more I think about it, the more I think that the role of the SDR needs to be refreshed. Lotta very green people that aren't set up to be successful in the role, and, as a result, high turnover and unhappiness abound in many SDR orgs. That's why I decided to work with SDR Nation, Sales Impact Academy, and Ramped Careers. I think they're going to make that space better.

Q: What hurdles/obstacles have you had to overcome to make advancements in your career?
A: Oh, your typical obstacles. I was very bad at SDR-ing and had to be taught how to be better. I failed my first interview to be promoted to AE, and spent six months trying to close the gap to win the job. There will always be hurdles. Some of them real, some of them imagined. I think the biggest difference in overcoming any of them has been a shift in my perspective. Is it an obstacle, or a learning opportunity? Is this the end of the road, or just a new door to be opened?
As far as participating in LeadIQ's Sales Madness, Sarah enjoyed the experience and wanted to give a shoutout to those who voted. Sarah wrote, "Literally everyone who voted for me deserves all the high fives and heart-eyes emojis. Eric Lindroos, Gabrielle Mazaltarim, Adam Ochart, Tanner Robinson, Matt Boehm, Brandon James, Luciano Scala, SDR Nation, Jemma Lee, Charlie Locke, Michael Gagliano, Evan Patterson, Monica McIlroy, All of Gong, and Devon Kirschmann."

After reflecting on the tournament, Sarah shares, "This is really a win for everyone who is a sales practitioner. If you're hustling from your cloffice (closet office), trying to close deals from your kitchen countertop or converted shed, then you are the winner of sales madness. To sell is madness. Invigorating, frustrating, sometimes terribly mundane, addictive, madness. If you've been in it, are in it, thriving or wriggling in quota hunting induced sweats, then this ones for you. May your quota always be attainable. May your deals shine upon you, and bear fruitful commissions. May your promotions be many, and your prospects eager to learn more. Congrats, salespeople. You've done it. You're doing it. You will do more. And it'll be great."

Thanks so much to Sarah and the rest of the participants in Sales Madness! The competition was real, but more importantly, the journey was fun! Until next year

Remembering all the participants:
Trainers
Leaders
Vendors
Practitioners