How To Setup LeadIQ With Other CRMs using Zapier
It's no secret that we do not integrate with every part of your sales stack in the world. Who do we blame for this? Is it my fault? Is this supports fault? Is it the big CRM lobby doing their usual shenanigans?
Who really knows who to blame at this point.
We do know one thing though. If you are a LeadIQ customer, and you don't use Salesforce, Hubspot, SalesLoft or Outreach, you may be feeling out of luck on using LeadIQ. The good news is, you still can add leads to your other systems.
Today we're going to show you how you can use LeadIQ and send your captured leads right into other CRMs like Microsoft Dynamics, Pipedrive, Close.io, and many of the others available in Zapier.
Now wait a second… before you panic and think "Zapier is too hard to use," give me a minute. If you go through this tutorial and still feel stuck, then you can say that.
I felt the same way before actually sitting down and realizing it only takes 5 minutes to set up. I'm going to make a super easy guide for you.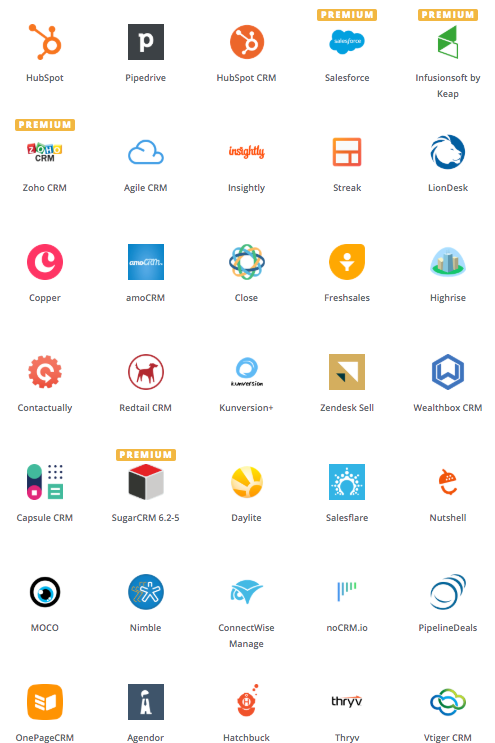 Wow there are a lot of these.
Ok. Before we get into this, I want to give you a few disclaimers.
First things first, LeadIQ DOES NOT integration with Zapier directly at the moment.
Here's the cool thing though. We don't need to. You'll see why soon.
You will need to pay Zapier money for some of the CRMs if they have the PREMIUM logo over them in their supported apps, you need a premium account in Zapier.
Unlike our Salesforce and Hubspot integrations, when you import a capture to Zapier the push is delayed about 5-15 minutes, depending on what plan you are using.
While Zapier can do duplicate detection in most of the CRM integrations, we can not show you what leads are in your CRM from LeadIQ through Zapier.
If you are okay with this, keep reading, and I'll show you how to hack this thing together. Make a Zapier account, then let's jump in.
STEP 1: Connect up your LeadIQ to Google Sheets
It doesn't matter if you use the Google Suite or Outlook. Whether it's your work email or personal, you want to setup our Google Sheets integration.
Here's a quick video on how to set it up:
Once you have the Google Sheets Integration setup, you'll be able to capture leads from LeadIQ into a spreadsheet in your Google Drive account.
Every time you capture a new lead, it'll create a new row in Google Sheets. LeadIQ will create a new Google Sheet for every campaign you make, and push it into your Google Drive account.
STEP 2: Go to Zapier (make a login if you don't have one yet).
So Zapier has these things called "Zaps" that make it so apps can programmatically talk to each other and do things you normally could do inside your app.
We're going to build a "Zap" that connects up your CRM to Google Sheets. In this example, thanks to our friends at Pipedrive, I'll be demoing this with Pipedrive. However, if you use another CRM, you can also do this as well as long as they have a Zapier integration.
STEP 3: Go to the explore tab and select your apps you want to connect.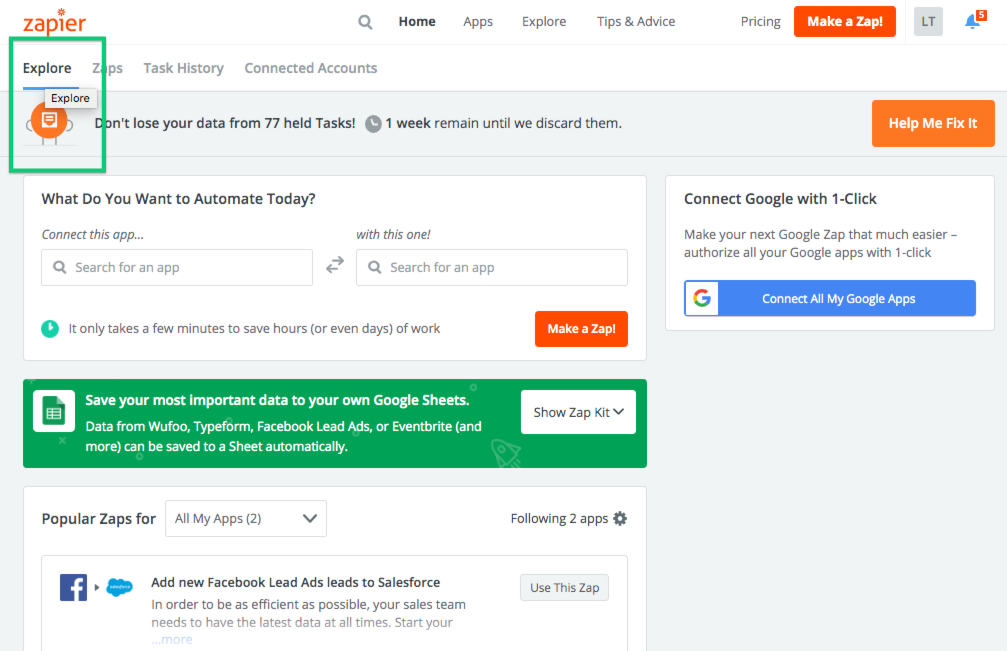 Now that you are in the EXPLORE tab, first you'll want to connect Google Sheets to your CRM. To do this, you're going to pick Google Sheets left side App.
After you pick Google Sheets as the left side app, you'll want to pick your CRM in the right hand column.
STEP 4: Now pick what triggers the leads to push to the CRM.
Ok...this part is kind of tricky. So in my example, I picked Google Sheets and it will now connect to Pipedrive.
I now want to make it so anytime I capture a new lead, it'll save into Pipedrive. You can pick whatever CRM you choose.
Since I'm saving all my leads save into my Google Sheet, everytime I capture someone, it creates a new row in the Google Sheet. I'm now going to use this to as a trigger to send leads into Pipedrive.
Under the Select a Trigger, I'm going to pick "New Spreadsheet Row" as a trigger.
I believe you can also pick "New or Updated Spreadsheet Row" as well.
STEP 5: Pick what happens after the trigger happens.
Now that we picked to have a new row being created in a Google Sheet as the trigger, we need to tell Zapier what we want to do next with the new row.
Since I'm using Pipedrive, I'm going to to tell Zapier to create a new lead in Pipedrive everytime I capture someone.
Your CRM may use different language than this to create a new lead or contact. With this example, Pipedrive uses the term Create Person.
Once I have this setup, I'm ready to customize the zap a bit more. Hit the USE ZAP button.
STEP 6: Connect up your Google Drive account to Zapier.
Ok...now you'll want to link up to your Google Account in Zapier.
After you pick a Google account, hit Save and Continue.
STEP 7: Select your Google Sheet and Worksheet
In my example, I'm going to use a prospecting campaign I made in LeadIQ called "science is cool.".
So I'm picking the corresponding spreadsheet in my drop down. The default worksheet is titled based on what version of LeadIQ the user is using. In this case, they are using version 1.4, so I'll pick the worksheet off the Google Sheet called "v1.4"
STEP 8: You'll now want to test this step to make sure the fields match up.
If I check my Google Sheet, it all lines up.
Check it out:
I'm now ready to continue.
STEP 9: Double check you have the right CRM picked then continue.
I'm also going to double check that I picked the right action based on a new row being created. Everything here looks good.
Hit the continue button.
Step 10: Connect up your CRM account.
Now it's time to login into the CRM you are using. I'm going to link up to my Pipedrive account.
Each CRM has different instructions here and will usually tell you what you need to do right inside Zapier. Some use logins and giving credentials, while others use tokens that you copy and paste into Zapier.
Pipedrive in this case uses a token, so I'm going to copy and paste my token into Zapier following the instructions they tell me below:
In Pipedrive, I'll go to the setting and get my API key. I'll blur out for security reasons for you. This is what I'm going to use in my zap.
Now that it's hooked up, I'm ready to save and continue.
You'll then be asked to put in information to make a test. This is to test that Zapier is properly connected to your CRM.
When we run the test, it should create the test info I just put in.
In Pipedrive my test worked!
Now we need to set up our mapping. Go through each field you want imported and map them to a column from your Google Sheet:
We are now ready to finish this up. Hit the FINISH button.
STEP 11: Save and activate your integration!
...And.. we are off. Now I'm going to do a test capture with LeadIQ and see if they get pushed into Pipedrive.
It takes about 5 minutes for an import to go through in Zapier, but check it out!
SNAP!
CRACKLE
WAIT 5 MINUTES FOR THE ZAP TO GO THROUGH..AND…..**POP:**
If Zapier detects a duplicate some CRMs will stop it from remigrating as well.
And there you have it!