How To Measure who Your Reps are Prospecting with the New LeadIQ Dashboard
LeadIQ launches a new dashboard!!
Providing Prospective Data to Better Understand Your Sales Reps Lead Capture
The concept of this new dashboard is to help organizations understand if their reps are going after the right accounts by being able to analyze their capture data.
After speaking with many clients and top leaders in the industry, we have realized how important understanding your sales strategy can be. Such as creating your ICP, understanding how you win deals, and even seeing how your reps are performing and if they are carrying out your vision properly.
So the concept of this dashboard is to help you hone in on that strategy more, providing you with prospective data.
As our CEO Mei Siauw elegantly puts it,
"....The reasons why we built this dashboard is because we believe that providing knowledge and insights into data and what your team's actions are will help you to make better decisions…."
The dashboard breaks down all your capture data into different segments so you can now understand where your reps are prospecting.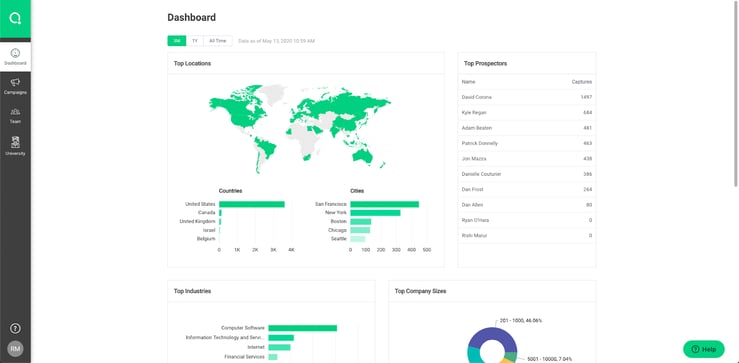 We have broken it down into geography to show you where most of your reps are targeting.
As you can see LeadIQ targets heavily in the US, mostly San Francisco, New York, Boston and Chicago.
We also break it down into top industries, company size, top titles your reps are prospecting, team member activity, top technologies and even who your top prospectors are.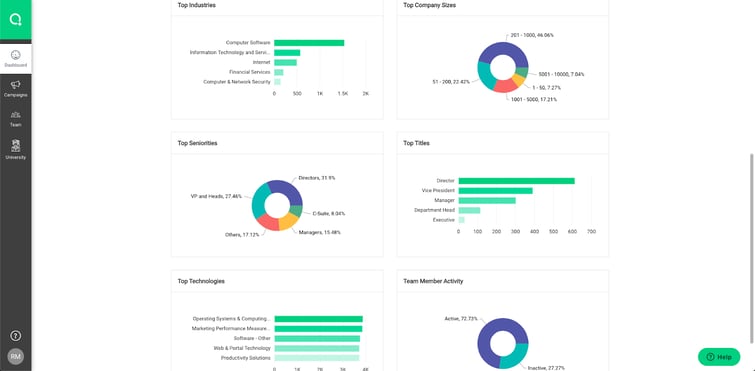 We even broke it down into three time gaps: past 3 months, past year and all time. So you can see how your organization has been shifting over time.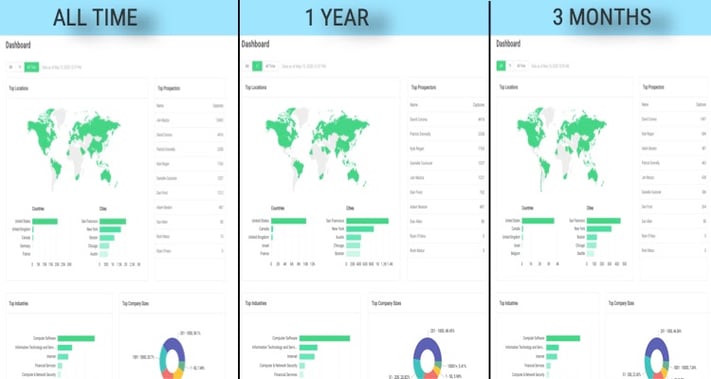 We believe each of these data points will allow you to constantly adjust your strategy until you get it right or will help you understand if your strategy is being properly executed from your reps.
For example, here at LeadIQ we have been concerned with targeting accounts that have a company size of 200-1000 employees. With this dashboard we are able to see that our reps are also targeting larger accounts and even smaller accounts that we are not interested in targeting at this time.
These kinds of insights allow us to understand what we did wrong and shows and how can we adjust their behavior to focus their targeting in order to fit the strategy a little better.
Fortunately for us, we hired a new SDR manager and we can see her hire has created a direct impact on our vision being implemented better.
Tom Steans, AA-ISP President for the Providence Chapter pointed out "If we have a strategy to go after this vertical and this persona. Then we look at this dashboard, and we see 'wow the team is not executing there'. It's a great view down of the team, but it doesn't answer all the questions. But it gives you the data to ask some good questions…."
Basically saying this dashboard may not have all the answers you're seeking, but it will provide you enough insight where you will be able to understand the questions you need answered.
Such as talking to your reps why they aren't targeting specific titles or industries or verticals and learning from them as to why they aren't buying into your vision.
"I think the front lines have more intel of the buyer than anyone else in the organization…" Because when you speak with your front line they will tell you their reasoning as to why they didn't go after the specific vertical you were expecting from them.
"When I talk to those folks I lose those types of deals because you didn't consider xyz…Then you have a window into the behavior of the rep which can lead you to a conversation about why.."
These types of conversations and insights can also allow you to understand if the vision is wrong or is it the management team not training well or managing well.
This dashboard will allow an organization to hold everyone accountable and will help management constantly keep iterating their strategies.
Now side note from the webinar we created around this product launch, Ryan asked a very interesting question to Tom Stearns which I thought could help put things in perspective:
Ryan: Now let's pretend you're a team working with us right now, you see your strategy is completely failing. Where do you start? Do you analyze who is being prospected? Or, do you look at their email and calls and really hone in on that?
Tom Stearns: With my clients I try to look at the whole picture. So I'll go right to the bottom and spend some quiet time with a rep, as a consultant I can get them sometimes to open up. So I can learn some first hand information that management may have no idea about. Then I go and listen to phone calls, I read emails...absolutely. But I also try to go to the top and look at the data. Like who are we targeting? What's our win rate? Why are we selling to 35 industries? So I try to look up and I try to look down and the patterns emerge. Full discovery, top to bottom is where I try to identify their issues and more importantly not making any assumptions.
Using Capture Data to Analyze
Because we are using capture data inside LeadIQ to help analyze who you are going after, it's very important to use LeadIQ as your lead capture software. Basically saying use LEADIQ MORE to make sure you take advantage of the resources this dashboard provides.
What does the future of the dashboard look like:
According to Mei it will be three parts:
Part one, as we continue to progress and move forward we will provide organizations with more visibility to know exactly what you are doing and improve on it.
Part two, we also want to provide more visibility into the conversion, so you'll know what is working and what isn't.
Part 3, provide suggestions based on what we've seen from all of our other clients, basically start matching you with the organizations that are really succeeding with their sales strategy